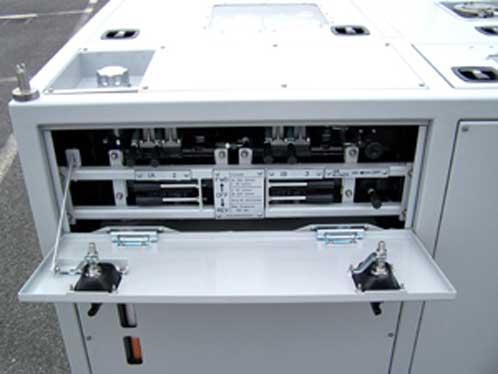 Compact 98kW multi-purpose powerpack that can be air transported across the world to give portable hydraulic power .This particular unit has been designed to help clear up offshore oil spills.
The self-contained unit has an overall height of only 960mm. Fork lift tubes are on all 4 sides to enable easy handling and loading. Its own lifting chains are stored within the unit and the exhaust is carried inside during transport. For safety in all environments the compact unit has a chalwyn valve for automatic shut off for over speed protection, anti-static fan belts, and spark arrestor.
The advanced hydraulic system has a variable displacement pump, flow adjustable valves and load sensing to allow the unit to power equipment with different supply requirements at maximum efficiency. The unit has a large hydraulic oil-cooling radiator. On board flow and pressure gauges allow the user can vary the flow on 3 circuits from 0 to 70 lt/min and from 0 to 200 lt/min on one circuit. Maximum pressure is 210 Bar.
Designed to work anywhere in the world the unit has a pre heat system to cope with artic conditions ( –25deg C) or the extreme heat of the desert (+46degC).The powerpack has full Perkins approval.
Another useful addition is an air blower, which is used for inflation and deflation of spill booms.
Technical specification
Power 98kW
Hydraulic flow 200 lt/min
Hydraulic pressure to 210 bar – operator has manual pressure control
Load sensing hydraulic control
Circuit 1 200lt/min Circuit 2 and 3 70 lt/min
Diesel 100 lts
Hydraulic oil 220lts