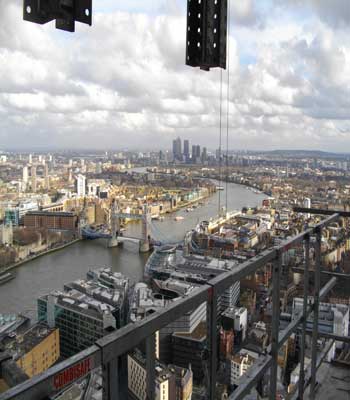 Active has pioneered hydraulic equipment which is helping to build an exceptional new building in the centre of London. The Shard will be the highest building in Europe when it is completed in 2012. With 78 floors containing a prestigious hotel, offices and accommodation, it will touch the clouds at 310M tall.
https://www.londonbridgequarter.com
Main contractors on The Shard project, Mace group and Byrne Bros (formwork) Ltd are using Harsco equipment. Active have worked with access and formwork company Harsco Infrastructure Group over the last 5 years to produce a purpose built 5 tonne hydraulic screen lifting system for use on construction sites.
The system lifts protection screens up the side of buildings during construction work. It is reliable, robust and offers failsafe safety features, whilst being incredibly user friendly.
This project has been exciting for Active, because this machine uses one of our smallest power requirements (we normally design hydraulic systems between 7.5kW to 100kW). Our design enables the 5 tonne screens to ascend the building in a safe controlled process with only a 110 volt, 32 Amp supply – something readily available on site. The rams are controlled by a handset on a 5M remote lead which allows the powerpack to be situated conveniently, with the user still able to be at the building edge safely controlling the lift.
The primary aim of the system is safety – both rams are forced to rise at the same speed even if each side of the screen has different loads. Safety is further enhanced by check valves mounted on each of the rams.
The powerpacks will be used to lift the screens round each side of the building and then will lift them up to 78 floors. Once there, the 100kg powerpack will be craned down the ground to start on the next building project.
A fox recently made the newspaper headlines after he entered The Shard site and climbed right to the 78th floor, kept safe of course by the Harsco safety screens lifted by Active's hydraulic system.
Fox-cub-found-living-off-scraps-at-top-of-Britains-tallest-building.html